The Wolf and the Lamb is the fifth episode of season three, and the twenty-fourth episode of the series. It was written by Neil Jordan, and directed by Kari Skogland. It premiered on May 12, 2013.
Storyline
Edit
Plot synopsis
Edit
Cesare's diplomatic mission to France is a success: guided through the complexities of the French court by his old advisor Machiavelli, Cesare makes an ally of Archbishop d'Amboise, a noble wife – Charlotte d'Albert – as well as a pledge of a military alliance against Milan and the Borgias' enemies. Back in Rome, the seductive and dangerously insane Bianca takes her own life, prompting Alexander and Cardinal Sforza to conspire to repay Gonzaga's cruel plot. Lucrezia travels to Naples accompanied by her husband, with Micheletto offering protection. King Ferdinand remains steadfast in his determination that little Giovanni will not be recognised at court. Upon learning this, Lucrezia plots against him with a recipe of poisonous mushrooms, but Micheletto will handle the matter on his own.[2]
Appearances
Edit
Jeremy Irons as Rodrigo Borgia
François Arnaud as Cesare Borgia
Holliday Grainger as Lucrezia Borgia
Joanne Whalley as Vanozza Cattaneo
Peter Sullivan as Ascanio Sforza
Sean Harris as Micheletto Corella
Gina McKee as Catherina Sforza
Julian Bleach as Niccolo Machiavelli
Melia Kreiling as Bianca
Patrick O'Kane as Francesco Gonzaga
Sebastian De Souza as Alfonso of Aragon
Thure Lindhardt as Rufio
Matias Varela as King Ferdinand II of Naples
Ana Ularu as Charlotte of Albret
Jospeph Macnab as Prospero Colonna
Abraham Belaga as Vitelezzo Citelli
Bjorn Hlynur Haraldsson as Gian Paolo Baglioni
Antal Konrád as Major-domo
Linda Marlowe as Old Lady
Tristan Sturrock as Doctor
Gabriella Fon as Nun #1
Gerda Pohánka as Nun #2
András Sándor as Gonzaga Servant
Pilou Asbæk as Paolo Orisini
Sophie Goulet as Joan of France
Edward Hogg as Georges D'Amboise
Prometheus Aleifer as Roberto Orsini
Serge Hazanavicius as King Louis of France
N/A as Giovanni Borgia

Episode stills
Edit
Sneak peeks
Edit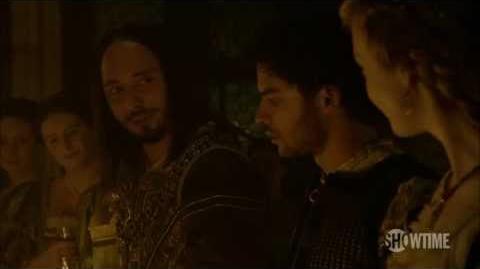 References
Edit
Community content is available under
CC-BY-SA
unless otherwise noted.