The Siege at Forli

Episode still of Ascanio Sforza, Juan Borgia and Rodrigo Borgia
Information
Episode number
Season 2
Episode 7
Directed by
Kari Skogland
Written by
David Leland
Advisories
Adult content, brief nudity, violence
Air date
May 20, 2012
Running time
52 minutes
Episode chronology
Previous
2x06 Day of Ashes
Next
2x08 Truth and Lies
The Siege at Forli is the seventh episode of
season two
, and the sixteenth episode of the series. It was written by David Leland and directed by
Kari Skogland
.
Storyline
Edit
Plot summary
Edit
Impressed by Juan's triumphant return from Spain with General Don Hernando at his side, Alexander sends his son to lay siege to the castle of Catherina Sforza's castle, but a surprising turn of events reveals Juan's cowardice; Lucrezia purposely scuttles a scheme to marry her off to a rich Genovese merchant; Savonarola's forces conduct the infamous "Bonfire of the Vanities."[1]
Appearances
Edit
Jeremy Irons as Rodrigo Borgia
François Arnaud as Cesare Borgia
Holliday Grainger as Lucrezia Borgia
Joanne Whalley as Vanozza Cattaneo
David Oakes as Juan Borgia
Sean Harris as Micheletto Corella
Steven Berkoff as Girolamo Savonarola
Julian Bleach as Niccolo Machiavelli
Peter Sullivan as Cardinal Ascanio Sforza
Colm Feore as Giuliano Della Rovere
Gina McKee as Catherina Sforza
David Alpay as Calvino Pallavicini
Tom Austen as Raffaello Pallavicini
Jesse Bostick as Antonello
Roger Lloyd-Pack as Friar
Noah Silver as Benito Sforza
Robert Cavanah as Hernando De Caballos
Vernon Dobtcheff as Cardinal Julius Versucci
Bosco Hogan as Cardinal Alessandro Piccolomini
Ivan Kaye as Ludovico Sforza
Helen Bradbury as Nanny
Rory McMenamin as The Boy Lucio
Richard Durden as The Physician
Elliot Lang as The Boy Angelo
Selva Rasalingam as Tommaso Carracci
Béla Gados as Il Cerimoniere
Nathan O'Toole as Vincenzo
N/A as Giovanni Borgia

What did you think of The Siege at Forli?
Historical notes
Edit
The castle of Ravaldino was inside the city walls of Forli, not on the edge of the city as shown.[2]
The incident of Caterina Sforza's eldest son being held hostage occurred in 1488 after the murder of her first husband, Giralomo Riario. Eye witness accounts differ as to whether or not she hiked her skirt, showing her genitals and saying she could always make more kids.[2]
Juan Borgia never besieged Forli and Ravaldino castle. The city of Forli was taken and Ravaldino besieged by Cesare Borgia in December and January of 1499 (The new year of 1500 did not start until March prior to the adoption of the Gregorian calender many decades later).[2]
Sneak peeks
Edit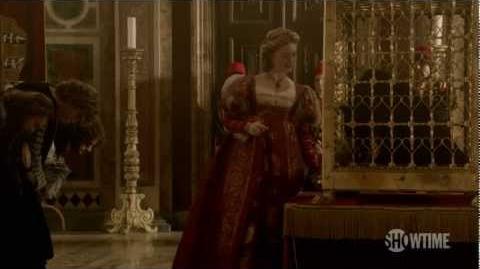 Behind the scenes
Edit
References
Edit
Community content is available under
CC-BY-SA
unless otherwise noted.