Siblings

Episode still of Cesare Borgia and Lucrezia Borgia
Information
Episode number
Season 3
Episode 3
Directed by
Jon Amiel
Written by
Guy Burt
Advisories
Adult language, adult content, brief nudity
Air date
April 28, 2013
Running time
51 minutes
Episode chronology
Previous
3x02 The Purge
Next
3x04 The Banquet of Chestnuts
Siblings is the third episode of season three, and the twenty-second episode of the series. It was written by Guy Bert, and directed by Jon Amiel. It will premiered on April 28, 2013.
Storyline
Edit
Plot synopsis
Edit
As the purged Cardinals are dismissed and stripped of their titles and wealth, one of them – Cardinal Versucci – angrily sets the Vatican Treasury ablaze after stealing a large sum. Incensed by the new King Ferdinand's arrogant refusal to accept Giovanni as Lucrezia's child, Cesare travels to Naples to fix the problem. Later, Cesare begins to consider an alliance with the old enemy France while Alexander doggedly sticks to his plan of allying with Naples, and therefore, Spain. After Lucrezia & Alfonso's wedding, Alfonso realizes that the political sands are shifting – and not in his favour. Upset, he leaves Lucrezia alone on her wedding night, driving her into the arms of her own brother at last.[1]
Appearances
Edit
Jeremy Irons as Rodrigo Borgia
François Arnaud as Cesare Borgia
Holliday Grainger as Lucrezia Borgia
Vernon Dobtcheff as Julius Versucci
Peter Sullivan as Cardinal Ascanio Sforza
Sean Harris as Micheletto Corella
Joanne Whalley as Vanozza Cattaneo
Gina McKee as Catherina Sforza
Sebastian De Souza as Alfonso of Aragon
Thure Lindhardt as Rufio
Matias Varela as King Ferdinand II of Naples
Gábor Nagypál as Papal Soldier Snitch
Bjorn Hlynur Haraldsson as Gian Paolo Baglioni
Iván Fenyö as Florentine Swordsman
Béla Gados as Il Cerimoniere
Mike Kelly as Armourer Naples
Abraham Belaga as Vitelezzo Citelli
Joseph MacNab as Prospero Colonna
David Dawnson as French Ambassador
Peter Stebbings as Cardinal De Luca
Pilou Asbæk as Paolo Orisini
Promoetheus Aleifer as Roberto Orsini

What did you think of Siblings?
Episode stills
Edit
Sneak peeks
Edit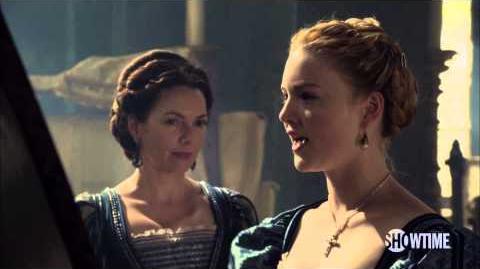 Behind the scenes
Edit
References
Edit
Community content is available under
CC-BY-SA
unless otherwise noted.