Season three

Season three poster of Rodrigo Borgia, Lucrezia Borgia and Cesare Borgia
Information
Number of episodes
10
Run
April 14 - June 16, 2013
Home video release
DVD release
Region 1
August 6, 2013
Blu-ray release
Region A
August 6, 2013
Season chronology
Previous
Season two
The third and final season was shot at Korda Studios, Budapest, Hungary, and premiered on April 14, 2013. The finale premiered on June 16, 2013.
The third season will be the last, with the season finale serving as the series finale.[1] Season three will be released on DVD and Blu-ray on August 6, 2013.[2]
Title
Director
Writer
Air date
3x01 The Face of Death
Kari Skogland
Guy Burt
April 14, 2013
As Pope Alexander fights for his life after being poisoned, the Cardinals jockey for position to take over the Papacy. Cesare and Micheletto trace the assassination plot back to its source, but Della Rovere is ready to make his move -- and his is not the only conspiracy. Catherina Sforza has dispatched her own personal assassin Rufio to dethrone the Borgia family. However, thanks to Lucrezia's quick thinking, the family's grip on power may not be lost.
3x02 The Purge
Kari Skogland
Neil Jordan
April 21, 2013
Now fully recovered, Alexander tasks Cardinal Sforza with instigating an "inquisition" among the Cardinals who were politicking against him when his life lay in the balance. With the "evidence" he needs, Alexander dismisses and banishes all the Cardinals he does not trust. But one of them – Cardinal Orsini – does not leave quietly, forcing Alexander to handle it with his bare hands. Meanwhile, Catherina Sforza orders Rufio to seek support from the mercenary warlords of the Romagna families – Orsini, Vitelli and Colonna. Lucrezia is annoyed that her in-laws to be – the royal family of Naples – will not welcome her son Giovanni at court; plus she is realizing her feelings for Cesare are becoming more than sexual than sisterly.
3x03 Siblings
Jon Amiel
Guy Burt
April 28, 2013
As the purged Cardinals are dismissed and stripped of their titles and wealth, one of them – Cardinal Versucci – angrily sets the Vatican Treasury ablaze after stealing a large sum. Incensed by the new King Ferdinand's arrogant refusal to accept Giovanni as Lucrezia's child, Cesare travels to Naples to fix the problem. Later, Cesare begins to consider an alliance with the old enemy France while Alexander doggedly sticks to his plan of allying with Naples, and therefore, Spain. After Lucrezia & Alfonso's wedding, Alfonso realizes that the political sands are shifting – and not in his favour. Upset, he leaves Lucrezia alone on her wedding night, driving her into the arms of her own brother at last.
3x04 The Banquet of Chestnuts
Jon Amiel
Guy Burt
May 5, 2013
Newly appointed Cardinal Farnese – promoted at the request of his sister Giulia – is placed in the Treasury and quickly discovers Versucci's theft. Micheletto is sent to find the wayward Cardinal. Meanwhile, upon hearing of Venice's request for help against Turkish pirates, Alexander, seeing this as an opportunity to replenish the coffers, dramatically calls for a Crusade. Concerned about the loyalty of his new Cardinals, Giulia arranges an orgy for them – the "banquet of chestnuts" – but it is a trap and details of the Cardinals' sexual activities are recorded to extort their future loyalty. Elsewhere, King Ferdinand learns that Lucrezia and Alfonso's marriage has not been consummated and demands a public display of their love-making. Lucrezia is humiliated, but the experience seems to increase the incestuous attraction between her and her brother.
3x05 The Wolf and the Lamb
Kari Skogland
Neil Jordan
May 12, 2013
Cesare's diplomatic mission to France is a success: guided through the complexities of the French court by his old advisor Machiavelli, Cesare makes an ally of Archbishop d'Amboise, a noble wife – Charlotte d'Albert – as well as a pledge of a military alliance against Milan and the Borgias' enemies. Back in Rome, the seductive and dangerously insane Bianca takes her own life, prompting Alexander and Cardinal Sforza to conspire to repay Gonzaga's cruel plot. Lucrezia travels to Naples accompanied by her husband, with Micheletto offering protection. King Ferdinand remains steadfast in his determination that little Giovanni will not be recognised at court. Upon learning this, Lucrezia plots against him with a recipe of poisonous mushrooms, but Micheletto will handle the matter on his own.
3x06 Relics
Kari Skogland
Guy Burt
May 19, 2013
When Cesare lands in northern Italy with a French army, Alexander is furious at what he sees as a challenge to his authority, but reluctantly accedes to Cesare's plan to destroy the Sforza dynasty, starting with Ludovico, Duke of Milan. Catherina, meanwhile, has come up with a plot of her own: biological warfare. With the help of Rufio she sends a plague-infected cloth, wrapped around a false message of peace, to Alexander. Cesare orders it destroyed unopened, but ambitious new Cardinal Constanzo disobeys and keeps the message for his own purposes, and soon, his household is in the grip of the plague. Concerned about the lack of funds for his Crusade, Alexander imposes punitive taxes on the newly arrived Jewish community. However one clever member of the community, Mattai claims to be able to procure a holy relic, the long lost Spear of Longinus. Cardinals Farnese and Petrucci vie to provide the Pope with the "real" relic, but Mattai gains the Pope's respect and an unlikely alliance is born.
3x07 Lucrezia's Gambit
David Leland
Neil Jordan
May 26, 2013
Cesare burns Constanzo's palace – and the Cardinal with it – in order to contain the plague, while Micheletto is love struck with the beautiful young Pascal. Lucrezia, aware that the political wind has changed towards France and away from Naples, seeks a Neapolitan power base for herself and her family. There are two candidates to replace Ferdinand as King: arrogant and hostile Prince Raphael and kind and friendly Prince Frederigo. When Frederigo is apparently poisoned and almost dies, Lucrezia finds "evidence" of Raphael's guilt and blackmails Raphael into giving up his claim. Her ally, Frederigo, is crowned King. But has she made the right choice?
3x08 Tears of Blood
David Leland
Neil Jordan
June 2, 2013
Pilgrims are flooding to Rome for the Jubilee year celebrations, and the Spear of Longinus is the centerpiece of the show. However Catherina Sforza has a plan to frustrate Alexander's lucrative festival. Across the sea in Kefalonia, the Turkish fleet is destroyed by Mattai's Jewish contacts – Alexander shows his gratitude with a Bull exempting the community from taxes. Meanwhile, Lucrezia senses a change in newly crowned Frederigo, and realizes that she is under constant watch from the royal guard. The Borgias have walked into a trap: Lucrezia learns that Frederigo faked his near death to get Raphael out of the way, while at the same time in Rome, Cesare and Micheletto discover that the latter's lover Pascal is a spy working for Rufio, reporting to a conspiracy of Catherina Sforza and King Frederigo of Naples. Lucrezia is not an honored princess in Naples, she is a hostage against any military moves against the Sforza family.
3x09 The Gunpowder Plot
Neil Jordan
Neil Jordan
June 9, 2013
Devastated by his betrayal by Pascal, Micheletto kills his lover and subsequently disappears. Devastated by the loss of his loyal lieutenant, Cesare races to Naples to rescue Lucrezia, but she has already escaped her captors – with the aid of a sleeping potion. Brother and sister are reunited on the road back to Rome, and are so overjoyed to see one another that Alfonso begins to suspect that their relationship seems more than that of ordinary siblings. Back in Rome, Alfonso becomes sullen and almost abusive, drinking heavily. Alexander, meanwhile, has come up with another plan with his friend Mattai: they scheme to corner the market in Italian sulphur, thus denying anyone else the ability to manufacture gunpowder. Still, Alexander does not trust Cesare, who quickly uncovers his father's plot, but it is Mattai who persuades father and son to reconcile.
3x10 The Prince
Neil Jordan
Neil Jordan
June 16, 2013
Alexander and Cesare are reconciled at last, and the Pope reveals that the Papal Armies have been strengthened and re-equipped with the money saved from the Crusade and the proceeds of the Jubilee. Now, the Borgias are ready to move against their enemies the Sforzas and are ready to take their first step towards their ultimate goal: to carve out a hereditary kingdom across the heart of Italy. Cesare marches his fearsome army to lay siege to Catherina Sforza's castle at Forli. Catherina is determined to resist despite the artillery bombardment and the danger of starvation in the bitter winter. Micheletto reappears from the shadows – his broken heart will not yet let him return to Cesare's service, but he does advise Cesare of weak spots in Forli's defences. Back in Rome, Cesare finds that Alfonso has become even more aggressive and Cesare plans to murder him. But circumstances become deadly when a scuffle breas out between Cesare and a drunk Alfonso. The doctor reports that Alfonso will certainly die, slowly and painfully over several days. Devastated, Lucrezia turns to her potions to end his life painlessly with Cesare vowing that now she will be his for good.[3]
Appearances
Edit
Main cast
Edit
Jeremy Irons as Rodrigo Borgia (10 episodes)
François Arnaud as Cesare Borgia (10 episodes)
Holliday Grainger as Lucrezia Borgia (10 episodes)
Sean Harris as Micheletto Corella (10 episodes)
Peter Sullivan as Ascanio Sforza (8 episodes)
Joanne Whalley as Vanozza Cattaneo (8 episodes)
Lotte Verbeek as Giulia Farnese (4 episodes)

Recurring cast
Edit
Thure Lindhardt as Rufio (10 episodes)
Gina McKee as Catherina Sforza (8 episodes)
Sebastian De Souza as Alfonso of Aragon (8 episodes)
Prometheus Aleifer as Roberto Orsini (7 episodes)
Pilou Asbæk as Paolo Orisini (5 episodes)
N/A as Giovanni Borgia (5 episodes)

Recurring guest cast
Edit
Brendan Cowell as King Mattai (4 episodes)
Vernon Dobtcheff as Cardinal Julius Versucci (4 episodes)
Charlie Carrick as Pascal (4 episodes)
Cyron Melville as Alessandro Farnese (4 episodes)
Noah Silver as Benito Sforza (3 episodes)
Matias Varela as King Ferdinand II of Naples (3 episodes)
Linda Marlowe as Old Lady (3 episodes)
Luke Allen-Gale as King Frederigo of Naples (3 episodes)
Julian Bleach as Niccolo Machiavelli (3 episodes)
Bosco Hogan as Francesco Todeschini Piccolomini (2 episodes)
David Dencik as Cardinal Giovanni Battista Orsini (2 episodes)
Peter Stebbings as Cardinal De Luca (2 episodes)
Edward Hogg as Georges D'Amboise (2 episodes)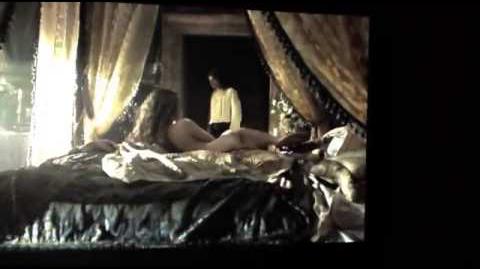 Behind the scenes
Edit
References
Edit
↑ http://www.deadline.com/2013/06/showtimes-borgias-to-end-run-after-three-seasons-creator-neil-jordan-on-how-he-planned-to-wrap-story/
↑ Cite error: Invalid <ref> tag; no text was provided for refs named Season_three_about_on_cbspressexpress.com
Community content is available under
CC-BY-SA
unless otherwise noted.