Lucrezia's Gambit is the seventh episode of season three, and the twenty-sixth episode of the series. It was written by Neil Jordan, and directed by David Leland. It premiered on May 26, 2013.
Storyline
Edit
Plot synopsis
Edit
Cesare burns Constanzo's palace – and the Cardinal with it – in order to contain the plague, while Micheletto is love struck with the beautiful young Pascal. Lucrezia, aware that the political wind has changed towards France and away from Naples, seeks a Neapolitan power base for herself and her family. There are two candidates to replace Ferdinand as King: arrogant and hostile Prince Raphael and kind and friendly Prince Frederigo. When Frederigo is apparently poisoned and almost dies, Lucrezia finds "evidence" of Raphael's guilt and blackmails Raphael into giving up his claim. Her ally, Frederigo, is crowned King. But has she made the right choice?
Appearances
Edit
Jeremy Irons as Rodrigo Borgia
François Arnaud as Cesare Borgia
Holliday Grainger as Lucrezia Borgia
Sean Harris as Micheletto Corella
Joanne Whalley as Vanozza Cattaneo
Lotte Verbeek as Giulia Farnese
Julian Bleach as Niccolo Machiavelli
Sebastian De Souza as Alfonso of Aragon
Thure Lindhardt as Rufio
Ivan Kaye as Ludovico Sforza
Noah Silver as Benito Sforza
Brendan Cowell as King Mattai
Jonah Russell as Cardinal Petrucci
Luke Allen-Gale as Frederigo of Naples
Jamie Blackley as Raphael
Pilou Asbæk as Paolo Orsini
Serge Hazanavicius as King Louis of France
Charlie Carrick as Pascal
Abraham Belaga as Vitelezzo Vitelli
Joseph Macnab as Prospero Colonna
Callum Turner as Calvino
Linda Marlowe as Old Lady
Edmund Kingsley as Medic
Barney Glover as Vincenzo Salvatore
Prometheus Aleifer as Roberto Orsini
Leo Bill as Cardinal Costanzo
N/A as Giovanni Borgia

Episode stills
Edit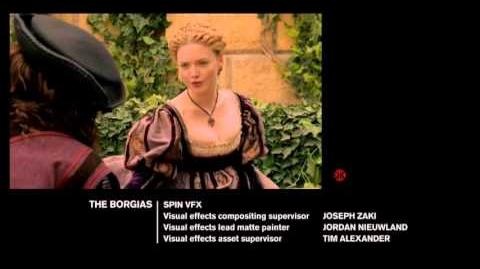 Sneak peeks
Edit
Behind the scenes
Edit
References
Edit
Community content is available under
CC-BY-SA
unless otherwise noted.